San Francisco Union Street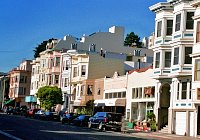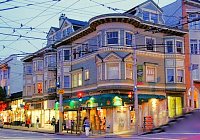 Union Street

When the whim of shopping catches you unawares, one of the best place to be in San Francisco is none other than the beautiful Union Street . The street's tryst with history is as old as that of the city. But what is just so amazing about it is that the street still stays today, replete with all the impressive architecture that has graced it since centuries! Be it Edwardian or Victorian, Union Street pays testimony to its past in a fashionably graceful way!
This famous street is without a doubt the most favored place to shop in the Frisco. You will find one long street that is intersected intermittently with various other streets, in fact the most famous streets of the city find a home here! All you got to do is clear your day's schedule and head off to Union Street to have a ball of a time! The first thing that comes to notice when you step onto the street is the bevy of houses that grace it. As far as the gaze wanders, you can be sure to find pieces of such brilliant architectural design that they are sure to leave you impressed if not dazzled. One such house that you must pay a visit to is the Octagon House, which is situated at Union and Gough. The house exudes charm and grace is as such an awe-striking home with a lot of beauty! The street pays testimony to the spirit of yesterday; at its very centre you will find a farmhouse along with two Victorian style mansions! Besides this, the street boasts of numerous B n B's, inns, museums and art galleries; all cloaked behind the veil of the elegant mansions! Be prepared to have an amazing shopping experience interspersed with bouts of few very interesting must-see sights!
Union Street brings to you an experience that no other city can duplicate! After all it's tough to compete with the flair of wining, dining and perusing through the latest fashion weapon in the precincts of antiquity… As aroma of freshly ground coffee wafts around you, take in the mesmerizing scene that unfolds in front of you at the Street; drink in the panorama along with the coffee and after you have had your break, get set to revel in the many attractions of Union Street . Shop at the famous Unique Stores that cover a huge area of seven blocks; or pick up gifts for friends and family back home from stores like Wonders of Tibet and Enchanted Crystal. You can be sure to find amazing home décor collection at stores like Alana Leigh Atelier, Momem Futon and Twig to name a very few! You will also find Nine West, 1887 Dance, A|X Armani Exchange, House of Cashmere etc. Food lovers can hog and binge at Balboa Cafe, La Boulange,
or Extreme Pizza. Few other tourist attractions at the Street are Allyne Park , which makes for a leisurely afternoon siesta time, the Moscone Recreation Center and the Golden Gate Valley Branch of the San Francisco Public Library.
Union Street runs nearly the width of San Francisco, from east to west, extending from its point of origin at the Bay, parallel west between Green and Filbert Streets to its end at the Presidio Reservation, a former Army base currently in the process of being converted to civilian use. A considerable portion of Union Street, from Van Ness Avenue to The Presidio, is in an area now known as the Cow Hollow section of San Francisco. But that has not always been its name. Originally the area was called Spring Valley, then Golden Gate Valley, according John L. Levinsohn's book, Early Days of a San Francisco Neighborhood from 1776. The neighborhood branch library retains the Golden Gate Valley appellation. The area our site focuses on, seven blocks between Franklin and Steiner Streets, is a business district with typical San Francisco architecture where you will find examples of both old and modern structures sharing the avenues. The main thoroughfare is a retail destination for visitors and residents alike with the Victorians that line street sharing it with buildings built in the 1960's. Several short alleys branch off into dead ends which makes for an interesting walking and sightseeing experience.