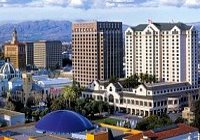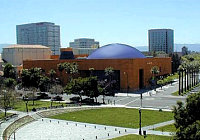 Museum Listings:
Children's Discovery Museum of San Jose
180 Woz Way
San Jose, CA 95110
408-298-5437
The striking 52,000 square foot purple building, designed by Mexico City-based architect Ricardo Legorreta, signals the purpose of Children's Discovery Museum to serve the needs of children, families and schools as a center for learning and discovery.
http://www.cdm.org/
Computer History Museum
1401 N Shoreline Blvd.
Mountain View, CA 94043
650-810-1010
Visitors are welcomed to explore the Museum's exhibits and artifacts by self-guided tour. Personal photography is allowed in the exhibit areas. Backpacks are not permitted in the exhibit areas. The Museum is wheelchair accessible.
http://www.computerhistory.org/
Golden Gate Railroad Museum
1755 East Bayshore Road, Suite 19A
Redwood City, CA 94063
650-365-2472
Houses 12 locomotives and over 25 pieces of rolling stock which are shown for special events.
http://www.ggrm.org/
History Park at Kelley Park
1650 Senter Road
San Jose, CA 95112
408-287-2290
History San Jose preserves and shares regional history by engaging diverse audiences that contribute to continuing history of San José and the Santa Clara Valley.
http://www.historysanjose.org/
Ira F. Brilliant Center for Beethoven Studies
San Jose State University
One Washington Square
San Jose CA 95192-0171
408-808-2058
The Center is the only institution in North America devoted solely to the life, works, and accomplishments of Ludwig van Beethoven (1770-1827). Established in 1983 when Ira F. Brilliant donated his Beethoven collection to San José State University, the Center officially opened in September 1985 with a gala co-sponsored by the San Jose Symphony. Building on Ira Brilliant's original donation, the Center now has the largest collection of Beethoven materials outside of Europe. In addition to functioning as a research library and museum, the Center is involved in a variety of educational programs and sponsors concerts, lectures, tours, and other events. Long-term projects include publication of The Beethoven Journal and development of the Center's online catalog, the Beethoven Gateway. The Center is also the headquarters for the American Beethoven Society.
http://www.sjsu.edu/
One Night Stand at the San Jose Museum of Art
152 N. 3rd Street, Suite 201, San Jose, CA 95113
408-916-1010
Inspiring creativity at the intersection of art, technology, and digital culture.
Rosicrucian Egyptian Museum & Planetarium
1660 Park Avenue
San Jose CA 95191
408-947-3635
The Rosicrucian Egyptian Museum and Planetarium is an educational institution that uses trans-disciplinary approaches to increasing knowledge about the past, present, and future, especially related to the diversity and relationships in nature and among cultures. It provides collection-based research and learning for greater public understanding and appreciation of the world in which we live, drawing on the wisdom of ancient traditions and modern science. Its collections, public learning programs, and collaborative research are inseparably linked to serve a diverse public of varied ages, backgrounds, and knowledge.
http://www.egyptianmuseum.org/
San Jose Museum of Art
110 South Market Street
San Jose, CA 95113
408-271-6840
The San Jose Museum of Art is a distinguished museum of modern and contemporary art and a lively center of arts activity in Silicon Valley. The leading institution in the area dedicated to the art of our time, SJMA is committed to providing access for its extraordinarily diverse populations and to pioneering new approaches to interpretation. Established in 1969, SJMA presents art ranging from modern masterpieces to recent works by young, emerging artists. The Museum's permanent collection – 1,400 varied artworks from the 20th and 21st centuries – has a special focus on West Coast art, seen in an national and international context.
http://www.sjmusart.org/
The Tech Museum of Innovation
201 South Market Street
San Jose, CA 95113
408-294-8324
The idea for The Tech Museum was little more than a dream back in 1978 when the Junior League of Palo Alto – and later the San Jose Junior League – struck upon a grand plan to create a dynamic learning center devoted to science and technology. Twelve years later, "The Garage" swung open its doors at downtown San Jose's former convention center on San Carlos Street and quickly became a valuable educational resource for children and young adults. Just eight years later, The Tech Museum moved into a bigger, dazzling 132,000-square-foot mango-and-azure-colored domed building, unlike any other in the Silicon Valley or the world. The Tech has become a landmark for visitors seeking a glimpse of the most inventive place on Earth and a showcase of the latest blockbuster exhibits, high-tech gizmos and wondrous gadgets that continue to define Silicon Valley.
http://www.thetech.org/
San Jose Steam Railroad Museum
San Jose, California
408-924-7560
A railroad museum celebrating the rich legacy of railroading within Santa Clara County has been under development by CTRC since 1992. This project was originally intended to be located at the Santa Clara County Fairgrounds in San Jose, California; however in 2002, the Board of Supervisors voted to rescind support of our proposed railroad museum at that location. Since that time, CTRC has been actively working with various public agencies for a suitable location within our community. The proposed location is near History San Jose at the south end of Kelley Park.
http://www.ctrc.org/
San Jose Institute of Contemporary Art
560 S 1st St
San Jose, CA 95113
408-283-8155
The San Jose Institute of Contemporary Art (ICA) is an energetic art space located in downtown San Jose dedicated to making contemporary art accessible and exciting to audiences of all ages and backgrounds.
http://www.sjica.org/
The Lace Museum
552 S. Murphy
Sunnyvale, CA 94086
408-730-4695
The Lace Museum is a non-profit organization incorporated in 1981. It is one of two museums devoted solely to lace in the western part of the United States and showcases an extensive collection of lace and lace tools. The museum houses hundreds of tools, lace examples, books and other materials covering the history of lace. The Lace Museum provides on-going lace making classes with experienced instructors.
http://www.thelacemuseum.org/