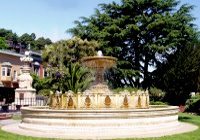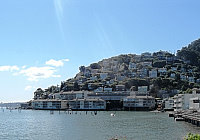 Alcatraz Tour plus Muir Woods, Giant Redwoods and Sausalito Day Trip
FranciscoSan Super Saver: Muir Woods and Wine Country Tour
San Francisco Ferry: Sausalito or Tiburon
Explore Marin County: Sausalito, Muir Woods and Seaplane Tour
San Francisco Vista Grande Helicopter Tour
San Francisco Super Saver: City Tour plus Muir Woods and Sausalito Day Trip
Sausalito
The picturesque city of Sausalito is situated in Marin County of California. The city is nestled right next to the Golden Gate National Recreation Area and is flanked by a rather interesting topography. Straddling the topography of hills and water, Sausalito can be rightfully called 'everyone's paradise'.The city is largely bounded by the protected spaces of the Golden Gate National Recreation Area.
The proud city was initially a shipbuilding center that came up during World War II.After the war, the city had quickly shed off its industrial skin and donned on a wealthy reputation. It turned into a picturesque residential community and became an artistic haven.
The city boasts the unique and artistic houseboats which are much coveted and highly enjoyed by the tourists.With the weather being mostly Mediterranean, these houseboats are a perfect road to unwind and bask in the glory of warm sun and cool breeze. The Sausalito houseboat community comprises more than 400 houseboats.Crafted by the very best, Sausalito bursts with glorious colors and enchanting sceneries. Sausalito stands for 'small willow grove', a name drawn from a multitude of its willows thatstandalluringly across the city's riverbank. You can hop onto a ferry from San Francisco and find yourself being transported to a world where enjoyment is the norm. Other striking characteristics that add to the city's scenery include the gorgeous sunsets, the entwining of the blue water with the cotton clouds above the hills, and the long winding roads that are resplendent with flowers of every possible color. The scenery also includes prominent geographical features like the Pine Point and Richardson Bay.
With scores of options to choose your holiday itinerary from, Sausalito is an artistic hub for all things beautiful. Be it art aficionados, leisure walkers, or museum enthusiasts, the city has something to offer to everybody. The Bay Area Discovery Museum And Studio 333 are sure to awe the artist in you. If you're looking for outdoor activities,you can enjoy the San Francisco Bay Whale Watching or board one of the many tours provided by Sausalito Guided Segway Tours, Sausalito Yacht Club, Sausalito Wooden Boat Tour And Nautical History Tours & Treasure Hunts. A visit to Bridgeway would definitely satiate your thirst for scenic vistas. The city also houses a host of public parks for multiple outdoor excursions.
Sausalito is a beautiful city whose allure only enhances as dusk begins to set in. The sun castes the entire city in a golden sheen as it leisurely dips into the azure waters. Here, you can get a taste of the Mediterranean as you enjoy the languid waters ribboning through your fingers while you sit next to the willows.