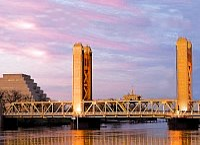 Nestled at the confluence of the Sacramento River and the American River in Northern California's Sacramento Valley, Sacramento is the capital citu of California. It is the largest city of Sacramento Couty and the six-largest city in California.
Nisenan, Modoc, and Miwok Native Americans are known to have lived in the area for over a millennium. It was in 1808, that the Spanish explorer Gabriel Moraga named the Sacramento Valley and the Sacramento River.Sacramento is a star on the map of California that provides cultural, epicurean, and adventurous opportunities year-round. In Sacramento, you'll find plenty of things to enjoy, whether you're visiting for business or pleasure. Some say that California begins in Sacramento, and many concur that there is no shortage of history, sporting events, outdoor activities, and other fun experiences to be had in the state's capital.
Sacramento sees more than 230 days of pure sunshine annually, so it's the perfect place to soak up some rays with wine tasting adventures, nature walks, Old Town tours, and so much more. The inside of Sacramento is equally exciting, with world-class museums, performing arts centers, and other outstanding venues to visit. No matter when you come to Sacramento, you'll surely find many exciting annual events held each year including events like Farm-to-Fork Week and Gold Rush Days.
Whether you're in Sacramento alone, with a partner, or as part of a family or group, the city offers many chances to meet new people, linger in beautiful public spaces, dine, explore landmarks, and watch top-notch theatrical productions. Sacramento is especially popular for its thriving and theatre and music scene. If you're here for a day, or a week or even longer, you'll always find something new to experience each day.
Sacramento has more Zagat-rated restaurants than anywhere else in Northern California. The city is at the forefront of the farm-to-table movement in America, offering fresh, seasonal foods year-round at a variety of price points.If you want to enjoy quality museums, there are nearly 30 to choose from in Sacramento. You can learn about Gold Rush history, aviation, the State Capitol, art, railroad history, or practically whatever piques your interest. Old Sacramento is the oldest part of the town, lined with cobbled streets and historic buildings dating back to the 1850s.
Family-friendly fun is available throughout the Sacramento city limits. You can hike, bike, watch Sacramento Kings basketball, or even raft through its thrilling rivers.If you love wine, there are 5 wine regions within an hour's drive of Sacramento. These regions offer tastings at more than 200 wineries nestled in the beautiful countryside.