Russian River, Sonoma County, California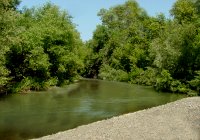 Russian River Canoe Trip from Healdsburg
Guided Kayak Tour: Russian River or Jenner Coast
Russian River Valley or Dry Creek Valley Wine Tour by Segway
Wine Country Adventure: Bike and Kayak Wine Tour
Wine Country Bike Tour and Picnic Lunch with Transport from San Francisco
The Russian River
What could be more blissful than visiting an ecstatic river, sweeping the beauty of Northern California?The Russian River majestically springs from the Laughlin Range and is the second largest river in the Bay Area. Having the main streamline of 110 miles, this river receives inlets from various rivulets and brooks, before it drains out to the colossal Pacific.
Formerly identified among the southern Pomo as Ashokawna (water to the east) and as Bidapte (the big river), the river came to be acknowledged as San Ygnacio by the Spaniards in the 18th century. Later on, its name was changed to Rio Grande. The river takes its present name from the Russian trappers, who discovered it in the 19th century. They called it the Slavianka River meaning the 'Slav river'. The river comes with enchanting natural waterfalls and two major dams including the Warm Springs and Coyote.
Spring, summer, and fall are the perfect seasons to explore the enchanting lower region of the river. An impeccable time to enjoy swimming and boating, the river sings in its gentle current in these seasons. The winters however, are a wild time for the river, as it rages in swift currents.One can revel in a series of adventurous activities in the river valley. Ballooning and skydiving, canoeing and kayaking, hiking, horse riding, whale watching are a few of the many getaways to perfect adventures. One could also enjoy fishing, biking, golfing and even shopping. Russian River has a scenic beauty unlike any other andattracts a large number of photographers and travelers.
The floodplains of the river enclose several vineyards, making the region home to a multitude of wineries. One of the areas of the valley had even been accepted as an American Viticulture Area. It specializes in proffering the best Chardonnay and Pinot noir wines along with other varieties of wines. Overflowing with bountiful wineries, this region is always ready to serve their exquisite wines. Supplemented with thrilling activities and wineries, one could have a pleasurable stay by the river.