Point Reyes National Seashore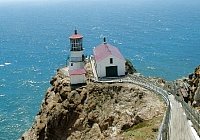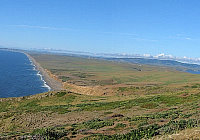 Behind-the-Scenes Cheese Tasting Tour in Marin
Best of Marin County Food Tour: Hog Island Oyster Farm, Cowgirl Creamery, Brickmaiden Breads
Marin County Oyster Farm Tour and Tasting
Whale Watching & Wildlife Eco Tour from San Francisco
Point Reyes
Point Reyes National Seashore has been a national treasure since 1962. The magnificent cape on the Pacific coast comes with a host of enthralling activities waiting to be cherished. The Point Reyes Peninsula is bounded by Tomales Bay and Bolinas Lagoon. The region comes with a rich and elaborate history, starting with the earliest inhabitants of the Coast Miwok, the early Spanish exploration and progressing towards the Shafter Empire and the 20th-century transformations.
The list of top five things to do at Point Reyes includes hiking, bicycling, kayaking, horseback riding, and of course observing the exquisite fauna. Point Reyes is an ideal hiking destination with an extensive network of trails to choose from. The bear valley trail centerwould assist you in planning a hike to suit your liking and time constraints and you can find the trail maps for north as well as south district trailshere. The on-road and off-road biking trails take you through lush green forests, estuaries, beach banks and vast expanses of picturesque country roads. Some of the many adventurous trails at Point Reyes would be – Arch rock via bear valley, Tomales point trial, Sky-Bear valley loop, and Abbotts Lagoon.
You can also try Kayaking amidst the pristine landscape of Point Reyes National Seashore. Tomales Bay is the most popular kayaking spot in the region. The four launching points for kayaking in Tomales Bay are Miller County Park, Tomales Bay State Park, Golden Hide Inn and Marina and Lawson's Landing. While kayaking,you can pause at some stunning stopovers such as Hog Island, Hearts Desire Beach and Indian Beach to feel the warmth of nature. You can explore the inherent natural beauty of Point Reyes National Seashore on horseback too. Places like Five Brooks, Chanslor Ranch, and Stewart Ranch Horse Camp enable you to have the perfect horseback riding experience. You can observe the great grey whales near the Point Reyes Lighthouse. The Lighthouse is an absolutely dreamy enigma when the fog takes over.If you want to regale in nature's beauty, Muir woods, Bodega Bay and thewine country are the best places to unwind at. It boasts a vast array of beaches to let you peacefully baskin its beach vibes.
Home to many endangered species, Point Reyes National Seashore is primarily known to house the tule elks and elephant seals. The Tule Elks can be seen grazing freely along the roadside in Tomales Point, whilethe Elephant Seals can be seen from the Elephant Seal Overlook. You can observe with thrill, thecolorful lives and adventures of these animals.The Point Reyes Peninsulais also a bird watcher's paradise that houses around 500 species of exotic birds. Many popular oyster farms can also be found near the peninsula. The area is a manifestation of nature's warmest greetings that are sure you stay in your heart for a long time.