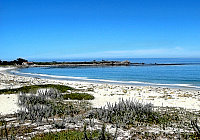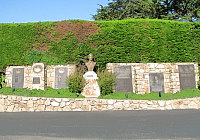 Carmel Small-Group Food and Wine Walking Tour
Monterey, Carmel and 17-Mile Drive Day Trip from San Francisco
2-Day Monterey, Carmel and Pebble Beach Tour from San Francisco
3-Day California Coast Tour: Santa Barbara, San Francisco and Carmel
Monterey Independent Bike Tour
Monterey Bay Aquarium Admission
Pebble Beach
Pebble Beach is a small community located on the Monterey Peninsula of Monterey County. The history of Pebble Beach dates back to the late 1800s. The symbol of the city is the Lone Cypress, which has stood the test of time and has around for 200 years. Pebble Beach's famouslandmark known as the "Witch Tree" held its ground for decades before succumbing to a storm. The Witch Tree was known for its highly unusual appearance and served as a scenic backdrop in many movies. The area credits the granite rock outcroppings, stack and small islands for a majority of its picturesque vistas. It holds an enigma of its own with its silent, secluded aura and foggy weather.Pebble Beach has also housed a lot of famous personalities like Samuel F. B. Morse, founder of the famous Morse code, Marvin Davis, the then head of 20th Century Fox, Rupert Murdoch, and Arnold Schwarzenegger.
The 17-Mile drive leading to Pebble Beach is one of the most cherished aspects of the area. It includes driving through the charming ribbon of road threading through Pebble Beach and Pacific, meandering along the forested areas, beaches and other sceneries. The ride through this alluring stretch squeezes in picturesque frames of the many golf courses and spectacular mansions on the way. Pebble Beach is known to be an abode for the country's most stellar golf courses.Designed by artists like Jack Neville and Douglas Grant, the courses'panorama of rough jagged shoreline hugging the immaculately manicured greens is a sight to behold. Be it for pros or amateurs, these high-end golf courses are sure to be loved by every golf enthusiast.
Every year, the area hosts the annual Pebble Beach Concours d'Elegance auto show. The event's flair spans around classic cars and a specific marque is featured every year. The exciting event includes a car competition, an auction, an automotive art exhibit and a classic car tour.
At Pebble Beach, you will find no dearth of resorts. Top-notch services are provided at the community's hospitality spots. You can enjoy a smooth stay at any of the lodges here.A few of the best resorts at Pebble Beach are the Lodge at Pebble Beach, The Inn at Spanish Bay and Casa Palmero at Pebble Beach. The popular Pebble Beach company, also founded by Morse includes three resorts, four golf courses, and more than sixteen hundred employees. Morse contributed to preserving hundreds of acres of forests and its coastline along the 17-Mile Drive for generations to come.
Picturesque, charming, and gorgeous, the unincorporated city situated on the Mexican Land in Monterey County, creates endless possibilities to rewind in the lap of nature.