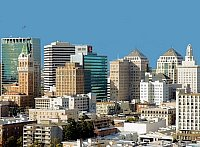 In the past, East Bay has often seemed like the "other" Bay area, offering only as much as a mere escape from the ever-so-popular city of San Francisco. Today, East Bay is a destination in itself, providing countless ways to have fun and enjoy one of the most exciting sections of Northern California.
East Bay consists of the cities of Oakland, Alameda, Berkeley, Concord, Walnut Creek, Livermore, Pleasanton, Emeryville, and Hayward. Freeways and light industry along the bay shore are the main distinguishing characteristics of East Bay, but the area also offers diverse adventure zones like networks of nature trails in the East Bay Regional Parks and a world-famous university campus. East Bay sits just a jump across the Bay Bridge if you're already in San Francisco, and it's a short distance across the San Mateo Bridge if you're heading up to the Bay Area.
The University of California – Berkeley is one of the top attractions in East Bay, and the surrounding city of Berkeley provides many retail stores, cafes, pubs, and bookstores that compliment the college atmosphere.Berkeley has seen an influx of yuppies in the past several years, which has brought a demand for higher-end establishments selling designer clothing and finecuisine.
In Oakland, you'll find stadiums that house baseball's Athletics and basketball's Warriors, as well as football's Raiders. Oakland also offers an exciting mix of live music venues, restaurants, boating marinas, restored Victorian shops on Ninth Street, and the famous Jack London Square.
Take a little trek over the hills into Contra Costa County and you'll find that cattle still outnumber cars, and you'll also view towering Mount Diablo overhead. The Tri-Valley area of East Bay features many small towns, the historic Livermore wine region, and a popular auto museum.
North of Oakland is the city of Temescal, one of the oldest and most stories areas that you'll visit in East Bay. Westbrae and Northbrae are 2 business districts that offer a diversion for tourists and locals who want to explore new coffee shops, destination eateries, and nursery shopping for their homes.