North Beach – San Francisco's Little Italy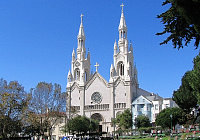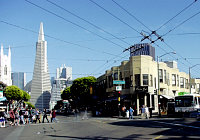 Little Italy and North Beach Walking Tour
Taste of North Beach Evening Food and Wine Tour
San Francisco North Beach Pub Crawl
Chinatown and North Beach Night Walking Tour
SF Urban Hike: Coit Tower, Lombard Street and North Beach
SF at Night: Segway Tour of North Beach, Chinatown and the Embarcadero
North Beach
North Beach is a small neighborhood located in the northeast of the city. It is bounded by Jackson Square, Chinatown, Russian Hill, Telegraph Hill, Financial District and Fisherman's Wharf.It is popularly known as San Francisco's 'Little Italy' for being a historical abode for a large Italian American population. The neighborhood teems with a multitude of Italian cultures and restaurants even to this day. The residential base of the neighborhood includes historical Victorian homes dating back to the 1920s.
A major chunk of what is today's North Beach neighborhood was initially just a beach filled with landfill until the late 19th century. Back then, its north-eastern coastline extended only till the Taylor and Francisco streets that we see today. The newly formed shoreline was later adorned with fishing wharves, docks, and warehouses. In the 1950s, the bars and cafes of the neighborhood flourished, becoming the epicenter of the Beat Generation and paved the way for the San Franciscan Renaissance. In the 1980s, the neighborhood saw a decline in its Italian American population, while opening its doors for young urban professionals and Chinese immigrants. The very first lesbian bar, Mona's 440 Club first opened in North Beach and gained high popularity between the gay community, tourists and the residents. The club is now located at 440 Broadway Street.
The neighborhood is a hub for multiple attractions like The Transamerica Pyramid, which lies in close proximity to Columbus Avenue. The small chapel of the Vallejo Street includes the National Shrine of Francis of Assis. A variety of other landmarks of the Italian masterpieces can be found at the St. Peter's Church and St. Paul Church. The San Franciscan Art Institute, positioned at the northern end of the town is a major attraction for art enthusiasts. Father's Day celebrations in North Beach is a grand affair, with exciting street fairs held on Grant Avenue. The Columbus Day is yet another major celebration day which includes day-long parades from Columbus Avenue to the Aquatic Park.The buzzy neighborhood of North Beach includes popular bars, strip clubs, night clubs, jazz clubs and many more entertainment spots.The Broadway east of Columbus Avenue stands as one of the most famous nightclubs and red-light areas here.
The flavor of Italian culture lies deeply embedded in North Beach. The neighborhood is dotted with a multitude of Italian cafes, restaurants and bakeries. Tourists find themselves exploring the very essence of Italy in North Beach. Authentic Italian, American and local cuisines can be relished in the neighborhood's eateries. Restaurants such as Vicolleto, Enrico's Sidewalk Café, E' Tutto Qua, North Beach Pizza, Fior D'Italia, and cafes like Caffe Greco, Stella Pasticceria e Caffe, Curly's Coffee Shop will take you on a sumptuous culinary ride. The urban neighborhood infused with vibrant streets, active nightlife, and diverse population was named as one of ten "Great Neighborhoods in America" by the American Planning Association.