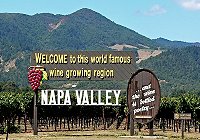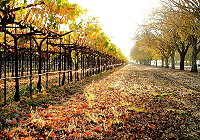 Napa and Sonoma Wine Country Tour
Napa Valley Hot-Air Balloon Ride with Sparkling Wine Brunch
Small-Group Outlet Shopping and Napa Winery Day Trip from San Francisco
2-Day Muir Woods and Wine Country Tour from San Francisco
Napa County
Napa Valley Websites and Information
"Wine makes every meal an occasion, every table more elegant, every day more civilized", so said world renowned epicurean Andre Simon. And if we are talking about wine, how can we not mention the intoxicating Napa Valley?!? When it comes to the sweet nectar, few other counties in California can even come close to beating it. Cosseted on the northern side of the renowned SF Bay Area, Napa County is America's answer to all things invigorating. The weather is always partial to this land. No matter where you go, you will find warm sunshine accompanying you, lighting up everything it falls on and bringing out the best of colors!
Flanked by breathtaking views as far as eyes take you, Napa valley is blessed with an exciting topography and history. Rolling mountains, flowery meadows, rippling waterfalls, you will find all this and more in the haven for beauty. No other county comes so dipped in the national flavor as the good ol' Napa. And good old it is! Napa valley is very much a part of America's colonial history, in fact; it is one of the earliest counties of the country that were created way back in the 1850's.
Marbled with warmth, mystique and allure, Napa entrances you with its many layers. On the northern side, lies the mighty Mayacamas Mountains which can boast of having one of the tallest peaks in the area, Mount Saint Helena. Also, the county has another famous mount, the Hood Mountain which has never ceased to inspire wonder and awe. Besides the hills and mountains, Napa County has to its credit various state parks and valleys-Snell Valley, Missimer Wildflower Preserve are the ones every nature lover must visit. Talking about nature, it has to be mentioned that the variety of flora and fauna that you get to see here is awe striking to say the least. If you are lucky you may spot a few endangered species as well!
Napa County is a shrine for all those who love this elixir of life 'wine' but if you thought that a visit to this part of the state is all about wineries, then you thought wrong. The wine county has lot of aces up its sleeve. Yes, obviously a visit here is guaranteed to make you want to check out the many wine producing areas. The best and the most coveted wine here is the Cabernet Sauvignon which is famous even the world over. The major wine producers of the area include Colgin Cellars, Jericho Canyon Vineyards, Dominus Estate, Steltzner Vineyards and many more. There are over 300 wineries here and each makes fore some memorable time.
Sight seeing in the Napa valley is lot of fun! Romance the area; Just swirl in a sip of the most exquisite red grapes, forget all else and go wherever your feet point to! Napa opens itself to its admirers and interacts in various ways…with National protected areas, rivers, creeks and reservoirs so generously dotting the area, the valley becomes an absolute joyride!
And talking about a joyride, the best way to kick start your journey into this land of scintillating delight is through the Napa Valley Wine Train. Winding through the dusty roads and green fields, it presents Napa at its natural best, truly a sight to be relished. If the aerial view is what fascinates you then hop on to an air balloon ride and get a bird's eye view of the entire valley! Yet another choice of enjoying the town is through bikes. Peddle your way across the valley and catch magnificent view of the grounds.
The valley offers various leisure activities. Enjoy the wildlife parading serenely in their habitat at the San Pablo Bay National Wildlife Refuge or forget the worries of the world as you cruise along the Napa River gazing at the sun as it sets the water aflame as it sinks into the river waters. There are various reservoirs out here in the county that you can also visit, namely East Napa Reservoir, East Side Reservoir and Fiege Reservoir. Hiking enthusiasts have the perfect avenue for enjoying their favorite sport at Bothe-Napa Valley State Park and Silverado Trail. The scenery is lush green peppered with an assortment of flora making it a memorable trip.
Lovers of art and history can spend hours gazing at the collection at the Napa Valley Museum or check out the wine gallery-The Hess Collection. If you wish to indulge in learning how the enthralling red drink is made, then take a quick course at Seguin-Moreau Napa Cooperage; it's the way wine was made in the good ol' days. Enjoy the musical strains in the evening at the Napa Valley Opera House or Napa Valley Symphony Concert. If golfing is what you truly enjoy then Napa Valley offers a lot of challenging golf courses- choose from Eagle Vines Golf Club or Mt. St. Helena Golf Course or Napa Valley Country Club to name the best few.
The county of Napa includes towns like Calistoga, Napa, Oakville, Rutherford, St. Helena and Yountville. These draw tourists in large numbers throughout the year. Each city has its own charm and evokes myriad sentiments. Calistoga has the allure of a small old town where life goes by at its own leisurely pace. Situated at the very northern end of the county, the town has a very interesting story to tell. Originally named Saratoga, the name got twisted into Calistoga, when one of the then very prominent men from the region called it 'Calistoga of Sarafornia', after a bout of heavy drinking thereby cementing its place and unique name in the annals of history. Calistoga has a lot to offer to keep even a seasoned tourist attracted; hot spring spas, fun shopping avenues, vineyards and a breathtaking view of the countryside! A self proclaimed 'Spa Capitol of northern California', your time here will be best enjoyed when you let yourself soak in the hot springs and mud bath spas. Evening times are best suited to take a stroll on the Lincoln Avenue. You can window shop or actually shop and come out with few interesting buys. Also the art galleries here are very much liked as are the bookstores that can be found here in numbers. Those who have a passion for safaris can have a fascinating experience touring the Safari West with its 400 acre wide preserve. If you manage to be here during the month of March then ensure that you and your family attend the much-awaited Jazz festival. If you wander a little ahead, you will find yourself at the "old faithful of California"- a geothermal geyser. The geyser presents a magnificent sight- the bamboo grass that curtains the shallow pond slowly gives way to a more virile vision that is bubbling away hot water with gusto! As you see gallons of boiling hot water springing upwards, you will find yourself being transported to a wonder land. The whole image seems to be a fetching picture, what with the mountains patiently gazing at the effervescent geyser spurting out hot bursts of water!
Another city you must visit is the county seat Napa. The heart of the county, Napa is a wonderful town to enjoy your holidays at. Nightlife, amusement parks, nature parks, everything is available here for your enjoyment. Have a grand time as you step into the Scientopia Discovery Centre; it is a must not just for the kids but also for the adults!
Yet another city where you can make a pit stop at is the unincorporated land of Oakville. The place is known for its position in American history as a stop for water for the steam trains that were the norm back in the 1860's. This picturesque town got its name as a result of the intense coppice of oak that can be seen everywhere. The place has a lot of wineries where you can go and spend some pleasant time with your loved one. Walk through the vineyards and get lost in their enticing appeal.
Yet another town where you can make a pit stop while traversing through the roads of the Napa County is the town of Rutherford. A small sleepy town in the valley, it is, famous for its wineries and wine bars. You can check out places like Alpha Omega Winery, Beaulieu Vineyard, Frog's Leap Winery, Grgich Hills Cellar, Home Winemakers Classic and Niebaum-Coppola Winery. There is nothing better than forgetting all else and letting yourself sink into the pleasures of such corporeal pleasures. Shopaholics can stop at Napa Valley Grapevine Wreath Company and check out the some really interesting stuff.
Those looking for a dash of romance, old style, have the wonderful St. Helena to come out. Heralded as the 'heart' of the valley, you will definitely lose your heart to it. Its beauty and charm will enthrall you and surely leave you wanting for more. St. Helena is the place where romance sizzles and love grows. With a backdrop of the mounts and the lush green vineyards, you will be spellbound! The town is a thriving centre for art, culture, fine dining and wine tasting. Put on your favorite dress, put your best foot forward and step out to have an exhilarating time. The mesmerizing city of St. Helena generously lays out everything for you to savor. Let your taste buds on a tantalizing ride as you relish the choicest of wines from the local wineries. The Flora Springs Winery is especially good; a must visit for all couples. Aficionados of shopping can splurge at the downtown market area which can also double up as a date with history. Buy artifacts in exciting colors for yourself and your friends and family!!! Feel rejuvenated as you go for any of the health and wellness spas. The rejuvenation of mind, body and soul is promised here! Let the chef inside you come out, enroll yourself with a quick class with the Culinary Institute and who knows you might just be able to turnout lip-smacking snacks for you and your family! Wildlife lovers can regale themselves as they head onto the difficult paths and terrains, which the trails at St. Helena will provide.
As you get ready to complete your fascinating tour of the valley, your last stop has to be the captivating town of Yountville. It is an American Viticultural Area and has the honor of being the first town where a vineyard was established. Absolutely amazing in its allure, the city entices you with establishments like the Lincoln Theatre, Thomas Keller's French Laundry restaurant and Domaine Chandon winery. Who's who of the world comes to grab a meal at this uber sophisticated French restaurant that has been considered in the top 50 best restaurants of the world. Try to get a reservation at French laundry, if you are lucky enough to get in, then be prepared for being pampered and being given a truly spectacular service. Five star dining couldn't have gotten any better than this-Lip-smacking dishes, with ingredients flown in from allover the world, top class chefs. All you need with you is a big appetite! If you are the kind who can find 'comfort' only in comfort food then don't worry, Yountville caters to even such needs of yours. The town has the famous Ad Hoc that dishes out some of the scrumptious dishes in the county. Certainly not be passed!!! If you thought this town was all about food, then you thought wrong! Art lovers can have a wonderful time at the Lincoln Theatre; it brings out some absolutely lovely performances which are much appreciated.
Napa Valley is a treasure find in its own right. Sprawling vineyards that take you in a daze with their heart stopping beauty surround you at every step. It is said few other pleasure match up to the sight of a lush green vineyard pregnant with voluptuous grapes. And at Napa valley, America's own lill wine capital, we are sure you will be very pleased…

City of Napa
Napa Chamber of Commerce
Napa County, California
NapaValley.com
Napa County on Wikipedia
Napa Valley College
Napa Valley Register – Local News