Muir Woods National Monument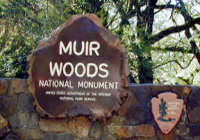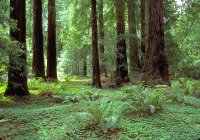 Muir Woods, Giant Redwoods and Sausalito Half-Day Trip
Muir Woods and Sausalito Tour plus Bay Cruise
Alcatraz Tour plus Muir Woods, Giant Redwoods and Sausalito Day Trip
2-Day Muir Woods and Wine Country Tour from San Francisco
San Francisco Super Saver: Muir Woods and Wine Country Tour
San Francisco Super Saver: City Tour plus Muir Woods and Sausalito Day Trip
Muir Woods
'The woods are lovely dark and deep', once remarked Robert frost, and if you do not recall your literature too well, you will believe that these famous lines were said for the Muir Woods. Think wild beauty and you will have an image of dark luscious wilderness that is a part of the Golden Gate National Recreation Area. The Muir Woods encompass an area that is nestled right across the Golden Gate Bridge in San Francisco . Situated in the Mount Tamalpais Valley in Marin County , the Muir Woods are a treat for sore eyes. The luxuriant Redwood Forest make way for a spectacular sight, which even words can't do justice to!
Historical perspective
The Muir woods have had the privilege of being the long standing observer of civilization. The Woods have seen many an empire rise, shine and fall down…but what has remained is the inviolability of the place. Right from the Native Americans to the Mexicans, from the years of Maritime to the age of the famous California Gold Rush, the Muir Woods have stood tall and witnessed history taking shape in front of them. In fact the Redwood trees are over 1000 years old and are still capable of dazzling even the most seasoned of tourists. Going back into the annals of history, you will find that the sequoia trees existed in all of America . But over the course of time their area shrank to just what we now know as California , especially the northern part of it. The Muir woods owe their survival in the modern times to the efforts of a US congressman and his wife.
Quite aptly heralded as a National Monument, the Woods comprise of over 500 acres of sprawling greenery of which almost half is a result of the mighty Sequoia forests. The Muir woods attract tourists in hundreds everyday. Those planning some time out at the Muir are in for a very delightful surprise! The forests will enchant you with their splendor. The dense green foliage curtains around you and the fog veils you in its cool fingers, reeling you into the intoxication of the surroundings… the woods almost have an enchanting quality to them and as the suns rays falls on the leaves and branches, it lights them in a riot of colors, all set to dazzle you!
Things to do
The woods are perfect for you to spend some romantic time with your partner. Stroll, hand in hand, through the dream land that Muir Woods is and catch various types of fauna as you pass by. The most remarkable plant lives here are the Coast Redwood which are just gigantic in their size! Don't miss out on the golden opportunity of getting yourself clicked against the backdrop of the oldest living plant life!!! Besides this, the area is renowned for its rearing and spawning of fishes, especially the endangered species like the silver salmon and trout. You can also spot a Northern Spotted Owl or a woodpecker as you indulge in some bird watching. If you enjoy roughing it out then go hiking in the splendid trails of the Woods. Whatever you do, you will never find yourself running short of things to do as you traverse the path of the mighty Muir Woods.

Related websites and additional information:
Muir Woods Official Website – http://www.nps.gov/muwo/

Muir Woods on Wikipedia – http://en.wikipedia.org/wiki/Muir_Woods_National_Monument