Half Moon Bay, California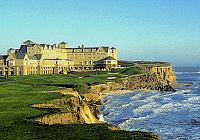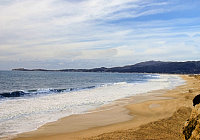 Half Moon Bay
A coastal city nestled in the San Mateo County of California, Half Moon Bay is a blend of traditional small town-charm, soothing weather, abundant natural beauty, and a host of activities to experience the best of Northern California. Since its primary start as a rural agricultural area, Half Moon Bay has come a long way into becoming a much sought-after tourist destination. It proudly houses historic buildings that date as far back as 1869.
The town dances in mild weather throughout the year, with a cool summer Mediterranean climate. Running along the exquisite Pacific coast, Half Moon Bay boasts a total of 24 beaches to splash and surf and bask in the beach vibes. You can head over to Fitzgerald Marine Reserve for tide pooling or visit the state beach to explore a diverse and enthralling marine life. The town's most popular attraction is Mavericks, a world-famous surfing spot that is known for producing challenging and colossal waves, enough to give you the thrill of a lifetime. There are other calmer areas where you can rent a board and surf smooth and slow. Surfing is one of the most cherished activities here. If you don't know how to surf, you can always take up surfing lessons through Open Ocean Surfing and in no time, you'll be crashing the waves.
Half Moon Bay is full of numerous exciting events happening throughout the year. Some of these events include the exhibition of classic antique cars at the annual summer American Classics by the sea, Art and Pumpkin festival during the harvest season featuring the famous Pumpkin weigh-off competition and many more. The streets are lined with various arts and crafts shops where you can shop your blues away and there are many exotic seaside restaurants to relish some fresh seafood delicacies. The Riz-Carlton Hotel chain operates a hotel in the town, which was featured in the movie American Wedding.
The abundance of aquatic life around Half Moon Bay makes it an ideal place for angling. You can enjoy catching a fish or two or buy fresh seafood at Pillar Point Harbor, which is the gateway to the National Marine Sanctuary. You can even be a part of the exciting sport fishing expeditions. In addition to fishing, Half Moon Bay provides thrilling opportunities for kayaking and boating. You can paddle awayin a kayak or undertake a scintillating moonlight excursion. The whale watching cruise lets you have a truly stirring adventure of being in close contact with migrating grey whales.
Alongside a plethora of water activities, Half Moon Bay offers equally exciting activities to do on land. A vast network of trails can be accessed here for hiking, biking, and horseback riding. McNee Ranch State Park, adorned with native flora and fauna offers an entrancing view of the Pacific Ocean from a height of 1898 feet. You can dive into the lush eucalyptus groves and feast your eyes on a resonant potpourri of wildlife at Burleigh Murray State Parkandlose yourself in the dense redwoods dotting the Purisima Creek Trail. Half Moon Bay is the escape into nature that can't be found elsewhere. Other activities include having a sport at two world-famous 18 hole golf courses at the Half Moon Bay Golf Links. Away from the crowded destinations, Half Moon Bay promises a tranquil holiday experience like no other!