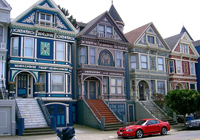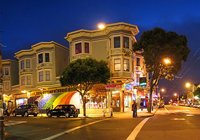 When many people think about San Francisco, images and stories of Haight Ashbury come to mind – or The Haight, as it is more often called. This community was the center of peace, love, and flower-power in the 60's, and although that time is long gone there is a lingering alternative vibe that runs through this section of San Francisco.
When you visit Haight Ashbury, you'll find many stores, restaurants, and even apartments that still show signs of the incense-burning, tie-dye-wearing, and acid-dropping culture that called this part of San Francisco home. There are quite a few shops that sell smoke paraphernalia and Eastern-influenced outfits, but you'll find an entirely new scene if you look past the scattered relics and occasional hippie décor. The Haight is now robust with exclusive boutiques, Internet cafes, and hip restaurants as well as a new breed of high-end vintage clothing retailers and home goods stores.
Today, you can relive rock history in The Haight with tours that take you by musician Jimi Hendrix's former residence, but you can explore places like Amoeba Music, a bowling alley-sized record store that is one of the largest in the country, that seems to marry the past with the present by offering one of the best selections of old and new music that you'll find – anywhere. Record lovers and cd buyers both rejoice at Amoeba, which shows just how brilliant San Francisco as a whole is at embracing it all.
Haight Ashbury is a place where you'll find fashionistas, club kids, tourists, and regular neighborhood folk, all equally thriving and at home. The Haight is a great place to relax in the park (Buena Vista park one of the most lovely parks in the city with an incredible view of San Francisco), get a piercing, grab a vegetarian burrito, or just people watch. The area is comprised of 2 distinctly different areas: Upper Haight, which stretches from Stanyan to Masonic and is the more upscale shopping zone, and Lower Haight, which runs roughly from Divisidero to Webster and is the more grittier section of Haight Ashbury.