San Francisco Golden Gate Park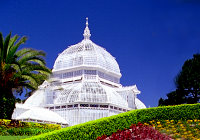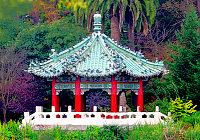 Skip the Line: California Academy of Sciences Behind-the-Scenes Tour
Skip the Line: California Academy of Sciences General Admission Ticket
California Academy of Sciences NightLife
Golden Gate Park
Come breathe in the scenic and gorgeously green environs of San Francisco . Who has not wished to go far away from the madding crowd and slip, even though for a short while, into a world where nature rules supreme! Golden Gate Park which is nestled right in the heart of the urban city is just the answer to all your prayers. Green, as far as eyes can take you, Golden Gate Park is a nature haven. To take a quick trip down history lane, the park came about in around 1871 through the efforts of William Hammond Hall. From then on started a period of great renewal and beautification; the barren land saw lush green plants and other such flora from all parts of the natural world!
Golden Gate Park is an icon in its own right. With wonders like Conservatory of Flowers, The Music Concourse Area, De Young Museum, Academy of Sciences, Japanese Tea Garden, San Francisco Botanical Garden at Strybing Arboretum, Stow Lake, Spreckels Lake, Bison Paddock and Beach Chalet up its sleeve, the Park ceases to remain just any other ordinary park and somehow gets anointed into the highest of realms in Park world!
Golden Gate Park is a sheer pleasure ride the minute you step into it! It's a place to engage in recreation, to fool around, to look around in awe at the mesmerizing beauty of nature around you; all in all a place to forget all your worries and let nature weave its magic around you! The park, as it stands today, has modern world juxtaposed with natural world. de Young museum and California Academy of Sciences, belonging to the former, bring with them an element of refreshing newness. The architecture is bold, the thought green and the entire concept just too amazing! The academy has a 'living roof' which has over 1.7 million native flora growing over the two and half acre area!!! If that's not enough then you can feast your eyes on the Morrison Planetarium, the Kimball Natural History Museum , a four-story rainforest dome or the Steinhart Aquarium.
Yet another feature that deserves special mention is the Conservatory Of Flowers. Arguably the oldest Victorian conservatory in this part of the world, it houses close to 2000 species of orchids, carnivorous plants, herbal plants etc. Don't be amazed if you find philodendron plants here, they present a remarkably spectacular sight! Besides this you have the Garden of Shakespeare's Flowers which pays homage to all the flowers and plants that were lucky enough to grace the great Bard's literary compositions and poems!
The garden is a much favored spot for lovers and there are many who can vouch for it as the best place to get married in SF. Then there is the Japanese Tea Garden which lives true to its name and presents an interesting maze of ways for you to meander through. There is a tea house which caters to your appetite with delicious cookies and teas!
If you have had enough of strolling in the gardens then you can indulge in some recreation sports like Archery, Biking, Skating, Fly-Fishing, Golf or lawn bowling. All in all, the Park is a wonderful place to be and as Kahlil Gibran said, 'Forget not that the earth delights to feel your bare feet and the winds long to play with your hair'. So the next time you come to SF, come to the Golden Gate to have a 'naturally' wonderful time.
Related websites and additional information:
Places to see in Golden Gate Park: