San Francisco Fisherman's Wharf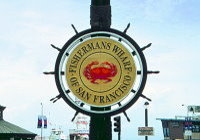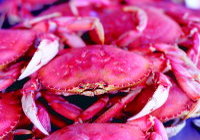 Walking Tour of Fisherman's Wharf and North Beach with Cable Car Ride and optional Alcatraz Ticket
SF Combo: Alcatraz and Ripley's Believe It Or Not! Admission
Exploratorium General Admission
San Francisco Shore Excursion: Hop-On Hop-Off Tour
Fisherman's Wharf
An opalescent twilight sea, a horizon painted in daring bold strokes and the enchanting ambience reverberating with mirth, happiness and laughter… sounds like heaven? Well look around and you will find it somewhere close to you! Pulitzer winning columnist Herb Caen once remarked that one day if he goes to heaven; he'll look around and say, 'It ain't bad, but it ain't San Francisco!!! Setting afoot in San Francisco is nothing short of a wonderful experience, but what make it shoot the realms of unforgettable and sybaritic is the famous and the most visited spot in the entire area-Fisherman's Wharf.
Fisherman's Wharf is the most popular neighborhood in the City of the Bay. A place where shades of life find expression in myriad ways, here you will find people from different walks of life juxtaposed with flavors and fragrances of the various communities! Many international festivals and spectacles have chosen the Wharf as their ground of attractions; on Fourth of July, the entire area is lit up with the special fireworks that grace the sky and shimmer down on the sparkling waters. The air is cackling with mystery, there is a hint of merriment pervading everything; in short Fisherman's Wharf is abuzz with life at every single moment of your life!!!
The Wharf is located midway between the two most famous bridges Golden Gate and the Bay Bridge; on the Jefferson Street between Powell-Mason cable car and Powell-Hyde cable car. Its affair with history started way back during the years of Gold Rush. That time saw Italian fishermen settling down in this area. The jetty was especially rich in Dungeness crabs. Till date you can find pods of crabs swimming in the blue waters. Not just these, the Bay waters are rich in other marine life like the clam chowder etc. What is now known and seen as the Fisherman's Wharf came about only in the late 1970's, and from then till now it has managed to captivate all those who have visited it!
The wharf has to its credit a potpourri of attractions… Pier 39, Forbes Island, Ripley's Museum, San Francisco Maritime National Historical Park, the list goes on and on… Besides this, you can feast your eyes on wonders like the Balclutha, a 19th century ship and the USS Pampanito a submarine that was used during the Second World War. There is also the Ghirardelli Square, where you can spend afternoons doing nothing much but just shopping (Helpers Bazaar being a case in point) till you drop and then gorging on the scrumptious feasts prepared by the various restaurants that dot the Square.
A unique point or rather 'person' of attraction is the notorious 'World Famous Bushman', a local performer; he never fails to startle the innocent visitor with his gimmicks and pranks!!!
Those who are eyeing for something more than drinking in the pleasured delights as they stroll across the scenic sights, presented by the Wharf can definitely choose to take back home a lill something from here. The sidewalk hawkers along with the small shops that surround the Wharf make for an uber memorable experience. Pick up a few trinkets that remind you of all the fun that you had here!
Related websites and additional information:
The Fisherman's Wharf Merchants Association – Fisherman's Wharf, San Francisco's #1 visitor destination. The Fisherman's Wharf Merchants Association was founded in 1949 to provide excellent member service and a strong unified voice that will ensure the growth of the community. Has visitors information, history and business listings as well.
PIER 39 – San Francisco's Fisherman's Wharf Premier Attraction, a festival marketplace with more than 110 stores, 12 Bay view restaurants, and a variety of fun-filled attractions for all ages including, our world-renowned sea lions, street performers and live daily entertainment. Try Frequent Flyers – a fun-filled bungee trampoline for all ages. See new San Francisco Carousel handcrafted in Italy. And this is just the beginning…
San Francisco Maritime National Historical Park – and the Hyde St. pier is located on the edge of San Francisco Bay, in the Fisherman's Wharf neighborhood, is a park that can be visited year round. Stand on the stern of Balclutha, face west to feel the fresh wind blowing in from the Pacific Ocean. See and feel the sights, sounds, smells and stories of Pacific Coast maritime history.
Aquarium of the Bay – 364 days a year, Aquarium of the Bay (Fisherman's Wharf) invites San Francisco Bay Area residents and visitors from around the world to get up close and personal with more than 20,000 local marine animals. From regal sevengill sharks to graceful bat rays to colorful sea stars, a visit to Aquarium of the Bay offers an unsurpassed view of what lies beneath the waves of the Bay and surrounding waters.
Ghirardelli Square – Historic chocolate factory transformed into an urban enclave of high-end retail, fine dining restaurants, artisan food markets, wine tasting, a luxury spa and the highly anticipated private residence club Fairmont Heritage Place, Ghirardelli Square (Fisherman's Wharf), has been unveiled throughout 2008. Gary Danko and Willow Stream Spa are expected to open during the Summer of 2009. Come check out all of the changes at the Square today.