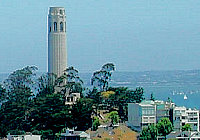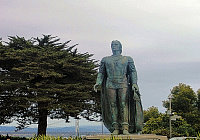 San Francisco Urban Hike: Coit Tower, Lombard Street and North Beach
San Francisco's Wild Parrots of Telegraph Hill Walking Tour
San Francisco Hop-on Hop-off Tour
Walking Tour of Fisherman's Wharf, North Beach, Cable Car Ride, optional Alcatraz Ticket
San Francisco City Insider Tour with Optional Muir Woods Trip
San Francisco Combo: Alcatraz and City Segway Tour
Coit Tower
Standing 210 feet tall in the city's renowned Pioneer Park, the Coit Tower is nestled in the Telegraph Hill neighborhood of the city. Built in the early 1930s, it celebrates the spirit of art deco.
Its rich history includes a fascinating tale to tell. The tower was named after Lillie Hitchcock Coit, a wealthy socialite, who's bequest was used for adorning the city of San Francisco. Her fortune funded the creation of the monument in a city that she loved the most. The shape of the tower is somewhat identical to that of a fireman's water hose nozzle. This similarity bears historical testimony to Coit's special bond with the firefighters of the city. During her childhood, Coit would pitch in with the firefighters to help save the city's buildings. At the age of fifteen, she assisted the Knickerbocker Engine Co. No. 5 when they were shorthanded during a fire call and later became their mascot. Riding the street parades on her favorite engine, she eventually became an honorary firefighter.
Alongside a rich history, the Coit Tower also boasts a dazzling appearance. It was designed by the renowned architects Arthur Brown, Jr. and Henry Howard. The powerful structure of Coit Tower stands amidst lush green trees, with its interiors adorned with murals crafted by 26 artists from California School of Fine Arts. A majority of the murals are done in fresco, with one mural done in egg tempera and many other artistic works laid out in oil on canvas. These artworks bring alive the splendor and magnificence of the San Francisco Bay. A few of its classic artworks include, 'library', 'city life', 'Labor March', and 'Industries of California'. These had been lovingly painted by artists like Victor Arnautoff, Mallette Harold Dean, Frede Vidar, Maxine Albro, George Harris, Rinaldo Cuneo, Clifford Wight, Edith Hamlin, Robert B. Howard, Otis Oldfield, Ray Bertrand, Suzanne Scheuer and Hebe Daum. The murals come together to unleash their colorful grandeur, attracting many tourists.
Coit Tower is known to provide "the most optimal 360-degree viewing point to the San Francisco Bay and five surrounding counties."It provides mesmerizing vistas of San Francisco's Nob Hill, Russian Hill, Lombard Street, Twin peaks and more. It also includes the panoramic views of the San Francisco Bay area, including Treasure Island, Golden Gate, Bay Bridges, Angel Island and Alcatraz.
The tower is also known as the Coit Memorial Tower as it is dedicated to the volunteer firemen who had passed away during the city's major fires. Featured as a prominent landscape in many movies and television series, the popular Coit Tower has had its own limelight in pop culture. Being one of the most visited sites in the city, the tower is a major attraction for people from all over the nation.