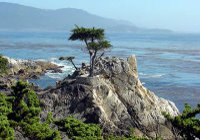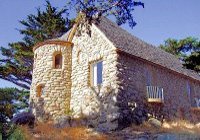 Carmel Small-Group Food and Wine Walking Tour
Monterey, Carmel and 17-Mile Drive Day Trip from San Francisco
2-Day Monterey, Carmel and Pebble Beach Tour from San Francisco
3-Day California Coast Tour: Santa Barbara, San Francisco and Carmel
Monterey Independent Bike Tour
Monterey Bay Aquarium Admission
Carmel By The Sea
Carmel By The Sea or simply Carmel is located in Monterey County of California. Known for its rich artistic history and natural panoramic vistas, the region comes with a fascinating collision of Native American, early Spanish, Mexican and American history.
Initially envisioned as 'a seaside town on Carmel beach in the forests of pine', the city retains its authenticity and keeps its history fresh till date. Carmel thrives on its art scene and is an artistic hub for musicians, writers, painters and other artists. The town's very first cultural center and theatre, Carmel Arts and Crafts was built in 1907. The Carmel Bach Festival is a highly sought-after music festival featuring full orchestral works, concerts, films, lectures and other interactive events.
With a vast array of exotic travel spots, the region provides the best of nature. Carmel Beach is known to be the country's tidiest and most beautiful beach. A morning walk by the beach is all one needs to experience heaven on earth. Ahead of the beach, towards Ocean Avenue, the Rodeo Drive provides one of the finest shopping experiences.
The tree-lined streets of the neighborhood are dotted with refreshing fashion, jewelry, antiques and many more stores. For a deeper and more satisfying shopping experience, the Carmel Plaza serves as an attractive spot. It includes four-star shops like Anthropologie, Khaki's of Carmel, Louis Vuitton as well as Tiffany & Co.The White-Glove Concierge Center at the Plaza is sure to lift up your shopping spree spirits. Carmel By The Sea also boasts more than one hundred galleries including the popular Carmel Art Association Gallery. For any art lover, these galleries and sites are a feast for the eyes.
Alongside picturesque views, intoxicating nature, and a thriving art scene, Carmel is one of the country's hubs forthe richest and tastiest wines. A paradise for every wine gourmand, the town warmly embraces numerous wine merchants, gourmet markets, local wineries and restaurants, offering fine wines and champagnes from all around the world. Wine fanatics shouldn't miss out wine bars and kiosks such as Vino Napoli, Mundaka, Cima Collins and The Bountiful Basket. For world-renowned cheese, local wines and gourmet pates, The Cheese Shop and La Bicyclette are the best places to stop by. The whole of Carmel can be seen as backdrop for a romantic getaway. Its pleasant weather renders gentle breeze, roaring surf and world-class facilities to create the perfect romantic crunch.
The town'scool Mediterranean climatemakes way for a plethora of outdoor activities. Many adventures lie beyond downtown Carmel. Andrew Molera State Park is perfect for hiking trails. Pebble Beach Resort's Courses and Carmel's Rancho Canada are two of the most popular golfing venues and the Mazda Raceway Laguna Seca is the perfect destination for racing.
Carmel is also known to be a dog-friendly town that warmly welcomes guests and tourists with dogs. The town continues to retain its natural coastal beauty, entrancing every visitor that steps into it.