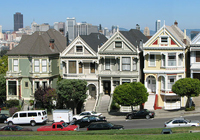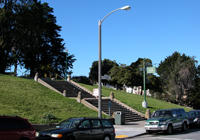 If you've picked up a postcard of San Francisco or looked through a coffee table book depicting lovely images of the city's "Painted Ladies," chances are the photo was taken in Alamo Square. This location is one of the most photographed in San Francisco, and the beautiful, colorful Victorian homes that line the Square are a treat for the eyes.
Alamo Square is at its simplest a park, a gorgeous green space surrounded by escalating formations of Victorians that are back-dropped by San Francisco skyscrapers in the distance. The stunning contrast in architecture and setting that you'll experience when standing in the middle of Alamo Square is a perfect reflection of San Francisco as a whole – a locale that brilliantly and effortlessly embraces the old while looking toward the new.
When you visit Alamo Square during the week, you'll find a few scattered residents enjoying a mid-day break and a handful of tourists here and there – most of whom clutch cameras in their hands hoping to get the perfect shot to represent their ultimate San Francisco vacation. On weekends, Alamo Park gets a little busier as families lay on the grass picnicking and playing, and a little flea market sets up shop on the sidewalks surrounding the Square.
Alamo Square, or "Postcard Row" as it is sometimes referred to, sits at Hayes and Steiner Streets and is one of 11 historic districts designated by the Department of City Planning. The area includes several bed and breakfasts inns as well as many Queen Anne era homes, which are must-see attractions when you visit San Francisco. These houses include large, period balconies and are typically 2-1/2 to 3-1/2 stories tall! Splendid!
If you want to take a picture of the homes surrounding Alamo Square, come when the sun is setting in the west and casting a stunning sunset glow over the Victorians. If you set aside some time to schedule a tour inside one of the Painted Ladies, you'll surely enjoy the experience.